News Archive
Heikki Kiviaho release solo single
29th Jun, 2020
Heikki Kiviaho has released his first solo single "Stay" in digital form. Jocke Berg from Kent helped out as vocal coach and also did backing vocals. Listen to "Stay" on Spotify.
Pre-orders open for the new split 7″
7th Jun, 2020
The new 7″ split single with The Chuck Norris Experiment is now available for pre-order. Sator's tracks are "Feathered Remedy" from the Under The Radar sessions and "A Song To You" which was recorded in 1998 for another split single that never happened. Available in black and colored vinyl in around 150 copies each.
Pre-order in the Ghost Highway Shop.
Gigs being cancelled or rescheduled
27th Apr, 2020
Due to the whole corona situation, the live scene is of course heavily affected. Some of our planned gigs have been cancelled (Avesta) and others rescheduled (Dalarocken, Hova, Engelen). "Time To Rock" is currently set to go ahead as planned. Check each festival/venue for latest status of each event since their info is more up to date than this site. We'll see you out there eventually, stay safe!
Split single with The Chuck Norris Experiment
3rd Mar, 2020
Sator has recorded a new track for a split 7″ with Chuck Norris Experiment. Out this spring on Ghost Highway Recordings. More details to follow.
Ship Ahoy! Setting sail for the Adrenaline Cruise '20.
13th Jan, 2020
On Thursday 16 Jan we embark on the Adrenaline Cruise with Dead by April and Lillasyster among others. We're playing on the return voyage on Friday 17th.
Two nights at Klubb Undergrunden in Borås
27th Nov, 2019
Borås has always been a great place for us. Now we're going back there again. The show on Saturday Nov 30th was quickly sold out so we added an extra gig on Friday the 29th. Support bands are Deadheads on Friday and Professional Againsters on Saturday. Tickets are scarce but there might be some left for the Friday gig, get them here.
Sator to Kristianstad Rockfest
5th Jul, 2019
We will play Kristianstad Rockfest on Saturday 13th. Other bands are among others Backyard Babies, KSM3, Graveyard and LOK.
Sator to Odal Rock and Dalarock
19th May, 2019
The summer is approaching and that means festival season. We will go to Odal Rock Festival in Austvatn, Norway on June 21st (and The Boys are playing there the day after). The weekend after, we're back at an old 90's favourite – Dalarocken in Hedemora on June 29th.
Sator salutes Dead Moon
7th Apr, 2019
Sator has recorded the track "Dead Moon Night" for a tribute album to Dead Moon, to be released May 10th on Chaputa!/Ghost Highway Recordings. It's a 10″ in black or white vinyl (500 copies of each) and other bands include The Hellacopters, The Nomads, The Sewergrooves, Monomen among others. Pre-orders are open.
Sator hyllar Tompa Eken
8th Mar, 2019
Tompa Eken, legendarisk eldsjäl i den svenska musikscenen, går i pension. Sator är ett av alla band som ställer upp och hyllar honom på en tvådagars gala på Södra Teatern i Stockholm. Fler band som uppträder är bl. a. Refused, Weeping Willows, Teddybears, Moneybrother, Nomads, Asta Kask, Strindbergs, No Fun At All, De Lyckliga Kompisarna, Troublemakers och Coca Carola. Galan hålls den 16e och 17 mars och alla band (utom Coca Carola) uppträder båda kvällarna. Biljetterna tog slut direkt men håll utkik i Facebook-eventet efter andrahandsbiljetter.
Sator at Loud Generation, Arboga
5th May, 2018
Sator will play at "Loud Generation 2018" in Arboga on June 2nd together with The Hawkins. The event takes place at Stadskällaren. More info in the Facebook event.
Stock Rocker Nuts gigs
29th Mar, 2018
We are doing some very special gigs where we play the complete "Stock Rocker Nuts" album. We have done this only once before, in Gothenburg in 2016. Now we're coming to Stockholm on May 18th and Fagersta on May 19th. Tickets are going fast!
30 Years Of Being Sator
23rd Oct, 2017
In case you've missed it, we are celebrating 30 years as Sator and are currently on tour. We are having a blast and the tour continues the whole year. Check out the dates here (some more might be added):
8/9 Västerås, Bankiren
9/9 Helsingborg, The Tivoli
29/9 Uppsala, Katalin
30/9 Sundsvall, Club Deströyer
7/10 Motala, Lux
20/10 Borlänge, Liljan
28/10 Göteborg, Pustervik
3/11 Örebro, Frimis Salonger
4/11 Eskilstuna, Lokomotivet
25/11 Visby, Donners Event
1/12 Stockholm, Kägelbanan
29/12 Karlstad, Nöjesfabriken
Peter Puders dead
4th Sep, 2017
Yet another good friend and colleague has left us too soon. Peter Puders played with TT Reuter, Commando M Pigg and Thåstöm among others.
Our paths crossed many times during the years, both live and in the studio. Rest in peace Peter.

Sator
See us performing Krossa alla tankar and Den udda gudens puls with Peter.
NEWS 2017
8th Jan, 2017
NEWS 2017
NEWS 2016
NEWS 2015
NEWS 2014
NEWS 2013
NEWS 2012
NEWS 2011
NEWS 2010
NEWS 2009
Work started on the next albumOct 11thSator has spent the weekend in Michael's house in Småland, rehearsing and trying out new songs for the next album. The plan is the release it next year.
Lots of gigs coming up!Apr 6thCheck out the tour dates for a list of summer festivals and other places where you can catch us live on stage in the not so distant future. More gigs will be added!
NEWS 2008
"I wanna go home" on new compilationOct 8th
Sator's "I wanna go home" is one of the tracks on a new compilation called "Nercabbat – Svenska Sommarhits". The album is available for downloading only, so it's not released on CD.
Mimikry's new album out soonOct 7th
"Alderland", the new Mimikry album, will be released on October 24th. Chips is the producer and has worked on the album on and off since last spring. A release party will be held at Bolanche in Borlänge on October 31st. There's a funny interview with Chips on Mimikry's website.
Chips producing The KasbahOct 6th
More production work. The Kasbah started working on their debute album at Music-A-Matic Studios in Gothenburg with Chips in the producer's chair and Henryk Lipp behind the desk.
Chips producing KittoAug 30th
Chips is in the Park studio in Stockholm with the Australian artist Kitto producing an EP with Stefan Boman engineering.
Sator rocked MotalaJul 5th
Photo: Stefan Anré
Sator had a great time at Vätternfestival in Motala. "Halter Top" was performed for the first time since '94. See pictures from Sator's gig here and a short review here. After the gig, the lads were invited to Bryggeriet to perform "800°" together with Ebba Gold. Chips, Kent and Heikki took the stage and blasted out the Ebba Grön classic in true punk fashion. Visit Ebba Gold and Bryggeriet for pictures.
Sator on Unnatural Axe tribute album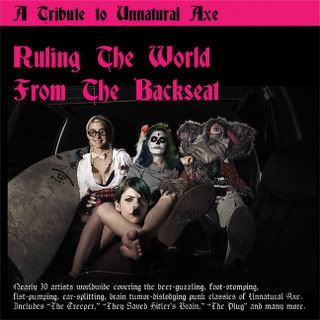 Jun 20th
Sator has recorded the song "3 Chord Rock" for a tribute album to the Boston punk pioneers Unnatural Axe. It will be out later this year on Lawless Records. Some of the other artists are Cheeta Chrome, Dim Stars, Classic Ruins, Mission of Burma and Jerry's Kids.
More info available at The Noise Board.
Chips and Kent on summer tour with White FlagJun 8th
Chips (El Swe) and Kent (Kent Crimson) will be touring southern Europe with White Flag again this summer. Check the dates on White Flag's MySpace.
The Hellacopters' last album released todayApr 18th
The Hellacopters' new album, "Head Off" was released today. As usual Chips K sat in the producer's chair during the recordings. "Head Off" is a collection of 12 covers and is said to be the band's final studio album. There's a summer tour and plans for a live album before The Hellacopters call it quits.
New Paul Collins' Beat album out, produced by Chips KApr 18th
Chips has produced the new album with legendary powerpop God Paul Collins, released on March 24th. From the press release: While performing at the Road To Ruins Festival in Rome, the band (Paul Collins' Beat) met up with producer Chips Kiesbye, most known for his work with Swedish rock bands The Nomads and The Hellacopters. As Paul tells it, "Juancho, my manager and bass player, and I were hanging out backstage after the show when we saw this guy with bright red hair! I asked Juancho, "Who the hell is he?" Juancho said, "That guy is one of the best producers around!" I walked up to him and said, "Hi I'm Paul Collins, wanna produce our next record?" And he said "Yeah!" Several months later the band was in Gothenburg, Sweden recording Ribbon of Gold. "Now I knew it was time to make the Big Rock Record!" says Paul about the recording, "I knew this was my chance to make a record with a big production, but I wanted it to be a record that we could play live, that kept it honest for me. Chips was the perfect producer, he knew the band, he was a fan of my early work and he knew how to bring my sound to tape!"
Chips on tour with White FlagFeb 18th
If you happen to be in Germany or the Netherlands in March, be sure to check out a gig on White Flag's European tour. The guitarist "El Swe" might look familiar to you Sator fans out there, he is more known as Chips K. The tour starts in Cologne, Germany on March 4th and ends in Den Helder, Netherlands on March 7th. Further info on White Flag's MySpace.
The Hellacopters last album out soonJan 24th
Chips has as usual been the producer when The Hellacopters recorded their upcoming album "Head off". This is the fourth album produced by Chips (not counting the minialbum "Strikes like lightning") and the release date is set to April 18th. Last November, shortly after the mixing was complete, the band decided to call it quits. They will play some festivals and other gigs during the spring and summer so be sure to go see 'em!
NEWS 2007
New Sator cover released

Nov 24th 2007
A month ago or so, the Italian label GoDown Records released a cover compilation album called "Wild sound from the past dimension", featuring rock 'n' roll songs of the 60's and 70's. Sator's contribution is The Arrows' "Touch too much" from 1975, recorded last summer together with The Bones. Also on the album is White Flag's version of "Both sides now" (originally by Joni Mitchell) with Chips on lead vocals. The album is limited to 500 copies on CD.
Another Chips-produced Nisse Hellberg album released, Oct 28th
Nisse Hellberg (Wilmer X) released his new solo album "En tiger i tanken" on October 24th. Just as on the last one – "Snackbar Blues", released only a year ago – Chips Kiesbye was the producer.
The Bones new album released, Oct 28th
The Bones new album, "Burnout Boulevard", was realesed on October 22nd. Chips Kiesbye has produced it.
Kent celebrated Mejeriet, Sep 29th
Kent Norberg was one of the guest stars when Mejeriet in Lund celebrated their 20th anniversary. Kent performed together with Eggstone and sang Docent Död's "Hand i hand". Some other guest stars were The Creeps, The Sinners, Jakob Hellman and Lars Winnerbäck.
Sator at Monsters of Mora, August 27th
Sator will play at Monsters of Mora on October 27th, together with Hammerfall, Sabaton and
Tryckvåg.
New songs rehearsed, August 26th


This weekend, the lads got together to rehearse for the upcoming gig in Spain. This was the first rehearsal since December last year, but it took only seconds until
everything fell right back into place. Some new additions to the live set were tried out, among them "Nothing Hurts" from 1994. It has never been performed live before, but it sounded good so it seems to be a keeper.
Sator song in computer game, August 22nd
"Escape from Pigvalley Beach", along with songs from Thunder Express, Republikans and The Turpentines, can be heard in the online 3D car racing game Pork Racer by Playdo.
Sator to play in Spain, July 22nd
Sator will play at the Crossroad festival in Oviedo, Spain on September 7th. Some other bands are Georgie Satellites, The Bones and Slaptones.
Sator Codex song on compilation CD, July 22nd
The old Sator Codex song "Leech" is one of the tracks on a new double compilation CD called "Svensk Postpunk", featuring 35 Swedish goth rock bands of the eighties.
Heikki says:
Shit va bra DVDn är! Tack Göteborg och alla andra.
Chips producing a lot, April 19th
Chips and Henryk Lipp have mixed an album with the Belgian band Southern Voodoo; "Devil's drive".

A lot of bands have Chips in the producer's chair right now or recently. The bands include The Hellacopters, The Nomads, Mimikry, Billy Pilgrims and Café Socitey Ltd. We're still waiting for the new The Bones album too.
Heikki produced the 2nd album with Strip Music; "Hollywood and Wolfman" released last year.
Kent & Heikki salutes The Ramones, April 4th
On Friday the 6th, Kent Norberg will play at Raw in Eskilstuna. It's a tribute night to The Ramones with lots of bands. Heikki is one of the DJs.
New Captain Murphy album, February 2nd
On February 14th, Captain Murphy release their second album "Human Cannonball". Once again Chips K is the producer. Captain Murphy at MySpace.
NEWS 2006
Pictures from Sticky Fingers, December 20th
The show at Sticky Fingers was amazing! 22 songs performed, including many rare ones such as "Find the time", "Dance to the rocket from the crypt" and "Ain't seen nothing". The band and the wild crowd did their best to make the coming DVD something really special and it sure feels like they succeded. You can watch some nice pictures at Sticky Fingers and at Photo: Henrik.

Also, Sator now have a MySpace site at myspace.com/satorsweden.
Sator live DVD recording, December 5th
The Sator show at Sticky Fingers on December 16th will be filmed for a DVD!
Be there and make some noise!
New release by Sons of Cyrus, November 4th
Sons of Cyrus have a new mini
album out on Sounds of Subterrania in Germany. It's called "Trigger-Happy"
and it's the 8 remaining tracks that we're not included on their "Rock
& Rollercoaster" album. The tracks were recorded and mixed
at the same time as the album so they're produced by Chips and engineered
by Stefan Boman.
Sator Codex cover released, October 26th
Swedish death metal band Hearse
has recorded a really cool and brutal version of the old Sator Codex
song "Crusade (gonna start a fire)". It's available on their
new album "In these veins", out now.
Nisse Hellberg and Brain Police albums released, October 13th
Two
new albums produced by Chips have been released. On September 12th,
Brain Police from Iceland
released their fourth album "Beyond the Wasteland". Then on
October 4th, Nisse Hellberg's (Wilmer
X) new solo album "Snackbar Blues" was released.
Micke
on TV, August 30th
For a few seconds tonight, Micke was seen in Rapport
(SVT1, 19:30, after about 9:40), where he gave a quick comment on
a political thing called Vårdbidrag. He could also be seen kicking
football with one of his sons. A must for a future Sator DVD bonus material
section!
Unusual songs performed, August 27th
The lucky ones who saw Sator live in Köping or at Tantogården
in Stockholm recently got to hear two unusual tracks. First came "This
is my life" (Gasolin), not performed since the Stereo days. And
then, even rarer on a Sator-show (though it's been played on some occasions),
"Teenage kicks" (The Undertones). The lads like to throw in
some surprises in the set.
New album by The Hellacopters, July 30th
On August 21st, it's time for The
Hellacopters to release a greatest hits compilation. It's been given
the title "Air Raid Serenades", and about half of the tunes
are produced by Chips K.
New album by The Nomads, July 14th
As part of their 25th anniversary, The
Nomads have released a compilation album called "Nomadic Demantia
— The best of the first 25 years". A bunch of the songs are
produced, and/or co-written, by Chips K, including the brand new cut
"Ain't No King of R 'n' R tonight".
Chips K producing The Bones, June 16th
In a few days, Chips will start working on a new album with The Bones. Sator and The Bones go back a long way. Hans Gäfvert
co-produced their first release, The Horrorway EP, in 1997. And did
you know that Beef Bonanza of The Bones used to run the Sator Fan Club?
Chips K producing Brain Police, May 27th
Chips, along with Stefan Boman, has gone to Iceland to produce the fourth
album by Brain Police.
The release is planned for June.
Basement Noise reviews, May 27th
The reviews for the new album have been over all very positive. Here's
a list of reviews found on the net so far (feel free to contribute):
Niels Jensen album released, May 27th
The new album by Niels Jensen
– "All min kärlek" was released on May 26th. The album
was produced by Heikki Kiviaho and Jörgen Wall, who also play on
the whole album. Guest performers include Chips K (guitar on two tracks)
and Michael (backing vocals on one track).
Le
Mans album released, May 27th
Heikki Kiviaho and Jörgen Wall have produced the new album by Le
Mans; Rebel Action. Released on May 5th.
Basement Noise out today!, April 19th
Today is the big day! Finally, the brand new Sator album is
released. To celebrate this marvellous event, a release party is held
tonight at Debaser.

A tour is planned for the autumn, so stay tuned for more information.
Until then, the band will play a few shows here and there. Latest news
always at www.sator.se.
Basement Noise release party, April 10th
The release party for the new album will be held at Debaser,
Stockholm, on April 19th. Sator will play the entire album, with the
correct song order, live!
Pre-order Basement Noise, April 2nd
If you want to get the new Sator album, Basement Noise, in your mailbox
on release day (April 19th), you can pre-order it at Bengans.
Kent-productions
released, March 30th
Kent has spent some time in the producer's chair recently and now the
results have been released. First it was "Mitt hjärtas monster"
by Dan Viktor, out on February
8th. And then on March 13th, "Surprising Sun" by Flamman.
A new song on radio, March 3rd
Check out Musikjournalen
on Swedish radio P3 (20.00—21.00) this Monday. The Basement Noise
track "So dressed up" gets its radio debut. You can hear the
program on webradio.
Basement Noise sound sample available!, Feb 19th
I bet you're all very eager to hear what Sator has come up with for
the new album. Well, now you can get a sneak preview at EMA's
website. A snippet of the album track "You're out of my hands"
is available for download.
Chips
on new White Flag album, Jan 16th
Chips K (labelled as "El Swe") appears as a guest musician
on the new White Flag
album, entitled "Piangi Con Me". Release date is set to February
28th.

More info (tourdates, sound samples etc) on their website or at MySpace.
NEWS 2005
Roots
Rock Rebel DVD, Nov 22nd – updated
Finally, the Joe Strummer tribute show recorded at Debaser on
February 20th 2003 will be released on DVD on December 28th. Chips and
Heikki play on most of the songs, and Kent sings lead vocals on "Safe
European Home".

See info and a preview here.

See tracklist here.
Michael on the radio, Oct
24th
On Friday 21st, there was a short interview with Michael on
the radio show "Kalas" on Swedish P4. If you missed it, you're
lucky 'cause you can listen to it on the
web (this week only). Click "Del 2" and fast-forward
to 33:25 to hear it.
Kent
on a box, Oct 2nd
If you live in Denmark and are interested in buying a new cell
phone, take a look at a Qtek 8100. On the box is a picture of Kent!
Click the box on the right to see a bigger image.
Chips
and Heikki in "Tjenare Kungen", Sep 22nd
Thåström and
his bandmates from the good old Thåström band (Chips, Heikki,
Per Hägglund and Jörgen Wall) have recorded a a newly written
Thåström/Hägglund track called "Bara för
mycket", for a movie called Tjenare
Kungen, showing at cinemas across Sweden now. The vocals are done
by Josefin Neldén (one of the actors in the movie).
The song is also on the CD soundtrack.
There's a short clip of "Bara för mycket" at
the movie's website (when you get there, click the stereo on the right).
Sator at Hultsfredsfestivalen,
June 20th
It might not have come as a big surprise, but it was Sator who
were this years Hultsfredsfestival's final
secret artist. Since it was the festival's 20th anniversary, a secret
band play each day. Having played on more festivals than anyone (probably)
Sator was a safe bet.
Also, Chips and Heikki (together with Jörgen Wall) were
The Hultsfred 20th anniversary band, playing songs with a whole bunch of guest
singers, including Moneybrother, Joppe
Pihlgren (Docenterna), Nix Wahlberg (Nomads),
Nina Natri (Fidget),
Kent Norberg (Sator), Maria Andersson (Sahara
Hotnights), Robert "Strängen" Dahlqvist (Hellacopters),
Patrik Arve (Teddybears Sthlm), Bo
Sundström and José Gonzalez.
Producing, May 28th
Even more producing for the Sator lads.
Heikki has produced two songs by Eskilstuna band Dave.
Heikki and Jörgen Wall are also working on an album with Le
Mans.

Chips has mixed the Billy Pilgrims tracks
recorded last summer. Two of them are available on their website. Also,
he has produced a track by Wilmer X for
a Eurovision song contest 50 years celebration compilation called "Alla
Tiders Melodifestival". The song was Björn
Skifs' "Michelangelo" and Chips sang some backing vocals
too.

And
of course, the new Hellacopters album "Rock & roll
is dead". Now, Chips' work with the Republikans album
is slowly getting finished, and he has started working
on the second Captain
Murphy album.
Kent produced the debut album by Per "Flamman" Westling.
Wow, it's getting kinda hard to catch up with it all, don't you think?
Producing,
April 19th
Republikans (including members from Henry
Fiat's Open Sore and Turpentines) have released a 7″ single
called "Thank's a lot buddy". It's produced by Chips Kiesbye.
They're working on a full-length album too.
Producing and side project,
April 18th
Kent Norberg's Bob Dylan tribute band The SHE has changed their name
to The BOB. They do some gigs now and then.
Kent also spends some time in the producer's chair. Throughout
the autumn and winter he has been working on Dan
Viktor's second album, with the working title "Mitt hjärtas monster".
There's only some small bits and pieces left to put down on tape before it's
time to mix. The album will be out after the summer. Dan Viktor is also a member
of The BOB.
And if that's not enough, Kent's working on the debut album
by Per "Flamman" Westling, a guitarist also in Dan Viktor's band and
in The BOB. According to Kent, the album will be great, sounding like a mix of
Wilco, Neil Young and Creedence Clearwater Revival.
Producing,
March 18th
The new Millencollin album "Kingwood" will
be released in Sweden on March 30, and in the US on April 14. It's produced
by Chips Kiesbye.
Compilation,
February 21st
The 8-CD box "Tracks 20 år: Jubileumsboxen" released
last year, consisted of 4 double CDs with different genres (dance, ballad,
pop & rock). These double CDs have also been released seperatley,
and Sator are of course on the rock-record, titled "Tracks 20 år:
Rocksamlingen". The track is "I'd rather drink than talk".
Side
project, January 31st
Finally! The repress of the Wild Kings 7″ has hit the shops! The
first 300 copies were withdrawn because of a scratch on the B-side. The
info again: The A-side is their only original, "Down at Wild Kingdom",
and the B-side is a cover of the Blue Öyster
Cult track "Career of Evil", recorded live at Debaser.
The single is released by Wild Kingdom.
Keep your eyes out for it, since it's a killer! They've got it at Sound
Pollution.
Producing,
January 30th
Chips and Heikki have been quite busy producing lately. The new Wilmer
X album "13 våningar upp", produced by Chips, is out
now. Also, the debut Fatboy album "Steelhearted" was
released in December. It was produced by Heikki.

   Other
studio work in the making include new albums by The
Hellacopters, Dozer and
Republikans (Chips) and the Eskilstuna band Le
Mans (Heikki together with Jörgen Wall).
The new Chips-produced album by Millencolin, "Kingwood",
will be out on March 30.
Opening,
January 19th
On December 10th, a brand new Hard
Rock Café opened in Gothenburg. They've got some rock
'n' roll memorabilia on display there, and among the items are
Sator's Grammis award for the Headquake album, along with an old
leather vest Chips used to wear on stage in the late '80s.
NEWS 2004
Concert news, December 18th
A couple of new Sator gigs are booked! First off, it's at Blå
in Eskilstuna on December 26. with The
Drivers feat. Horndogs & The Dynamite Sisters, among others. Tickets
(120 SEK) available at Rocks, Bonerocker, Quick and all ATG-agents.
Then on January 21 Sator will play in Tranås on a minifestival
called "The Gathering". The other bands are Asta
Kask, Mimikry and Rövsvett. Tickets will be available from Ticnet
or Parkhallen on January 2nd (150 SEK).
There's also a gig in Karlstad on February 11. More info to come!
Producing, December 8th
The Hellacopters have released
an EP called "Strikes like lightning", with six previously unreleased
songs, to celebrate their tenth anniversary. The tracks were recorded
during the "By the grace of God"-sessions in 2002. Produced
by Chips K, as you might remember. Available on CD and 3×7″ vinyl
box set.
Interview, October 18th
There's a new but short Sator interview/article in Dalademokraten.
Compilation, October 18th
The compilations just keep coming! But now it's something new – an 8 CD-box
with 144 songs. And among them, Sator's "I'd rather drink than talk".
The box is called "Tracks 20 år" and features songs that
have been on this famous Swedish radio program's chart over the years.

Sator's stats on Tracks:
Ring ring – on the list for 8 weeks, highest position 4
I'd rather drink than talk – 3 weeks, highest position 11
We're right, you're wrong – aspired to get on the chart but didn't make
it!

Check out all the charts and everything at the Tracks website.
Producing, August 21st
Another production job for Chips. Right now the recording of the Millencolin's 6th album is taking place at Fascination Street Studios (former Kuling
Studios) in the band's hometown Örebro. Engineer is Jim Brumby who
worked with Sator on Barbie-Q-Killers vol 1 and Stereo. He also worked
with Speed of Sound Enterprise on their sole album. Check it out on the
bands webpage.

The Wilmer X album will be mixed
early september and will be out this autumn.

Between the sessions Chips is also producing an album with The Republicans.

During the last weekend of July Chips produced 4 tracks with the Swedish
band The Billy Pilgrims
at Music-A-Matic Studio in Gothenburg with Henryk Lipp as engineer. The
band does not have a label so no release date is set yet.

Chips: "It's been a very hectic year
producing albums by Sons of Cyrus, Captain Murphy, Wilmer X, The Republicans,
Millencolin and the Sator album. But all the projects felt so interesting
and I really like the bands so I just couldn't say no. We'll get back
to do the final touches to the Sator album in october".
Compilation, August 4th
A Sator song has once again appeared on a compilation album. The album's
called "Monster Trucks" and the song is "We're right, you're
wrong". The CD is sort of the soundtrack to the TV-show "Hotwheels
Monster Jam", on Swedish TV4 this summer.
Producing, July 8th
Chips K will produce the new Wilmer
X album. More info to come!

But you can read a little bit about it here.
Concert news, July 2nd
The Hjofestival, where Sator
were supposed to appear, was cancelled! This was due to financial problems
because of too few tickets sold (read more here).
Sad news to the band and the fans who all wanted to check out some of
the new songs.
Concert news, June 16th
Finally a new Sator show! On Midsummer's day, Sator is the closing act
at the Hjofestival 25-26th of
June. A bunch of the new songs will be tried out live for the first time.
Other acts include Mustach, Troublemakers,
Lambretta, Dag Vag, Bo Kaspers Orkester etc.
Side project, June 15th
The Wild Kings 7″ is done! The A-side is their only original – "Down
at Wild Kingdom", and the B-side is a cover of the Blue
Öyster Cult track "Career of Evil", recorded live at
Debaser this spring. The single
is released by Wild Kingdom.
Keep your eyes out for it, since it's a killer! They'll probably sell
it at Sound Pollution for
example.
Producing, June 3rd
The new Chips K-produced album by Sons
of Cyrus, "Rock & Rollercoaster", is out now on Big
Brothel.
Side project, May 8th
The Wild Kings, Chips' and Heikki's cover band, will release a 7″
vinyl single before the end of May. The A-side will be their only original;
"Down at Wild Kingdom", and the B-side will be a live track
from one of their shows (three so far) at Debaser in Stockholm. The single
was mastered yesterday. More info about the 7″ and where to get it
to come.
Their next gig is on May 19th.
Producing, April 22th
The self-titled debut album from Swedish rockers Captain
Murphy is out now on Border Amigo. The album is produced by Chips
Kiesbye. Great, swingin' 70s style rock 'n' roll.
Special appearence, March 20th
Heikki Kiviaho plays bass on Lisa
Miskovsky's latest album "Fallingwater", as well as on her
current tour of Sweden. Tour dates on your right.
Karaoke DVD, March 20th
It's NOT Sator playing on the Karaoke DVD "Rockklassiker". Who's
actually playing on the track is unknown.

Michael: "It's certainly not us playing
on this one. We don't know anything about it but I guess it's some kind
of honor to be one of the artists chosen for this, or?"
Special appearence, February 5th
As mentioned before, Chips and Heikki are in a live cover band, performing
at the Wild Kingdom nights at
Debaser in Stockholm. The band
calls themselves The Wild Kings, and also features people from The Hellacopters and the Turpentines. They play songs by bands like The
Real Kids, The Nerves, The Runaways, The Undertones, The Beat, Stiv Bators,
Cheap Trick, Plimsouls among others. Anyway, they're playing on February
10th with some special guests. DJs are Henke Walse, Nick Royale &
Calle Schewen (founder of the Wild
Kingdom record company).
Producing, January 25th
Chips has been in the studio with Sons
of Cyrus during december, producing their upcoming second full-length
album. Release in February or March on Big
Brothel.
Karaoke DVD, January 25th


The Sator classic I Wanna go Home is featured on the karaoke DVD "Rockklassiker",
released by Svenska Karaokefabriken
in collaboration with www.rockkaraoke.nu
and Rockklassiker 106.7. So
if you're at the pub one night and hear a horrible version of I Wanna
go Home, it's not Sator's fault. The tracklist:
800 grader – Ebba Grön
All lips n' hips – Electric boys
Bimbo – Lambretta
Du ska va president – Imperiet
Highway to hell – AC/DC
Holy diver – Dio
Home sweet home – Mötley Crue
Hush – Deep purple
I wanna go home – Sator
Livet är en fest – Nationalteatern
Poison – Alice Cooper
Rock the night – Europe
Rock'n'roll all night – Kiss
Should I stay or should I go – The Clash
Staten och kapitalet – Ebba Grön
NEWS 2003
Special appearence, December 14th
Chips and Heikki will play on the Wild Kingdom X-mas Ball at Debaser in Stockholm, on December 16th, with Robert Eriksson (The
Hellacopters) and Markus Turpentine (The
Turpentines) and some special guests. Also on stage this night are
"Demons" and
Sewergrooves. "Husbandet"
played at the Nomads tribute album release party at Debaser and this band
will probably play at Debaser's Wild Kingdom nights as a monthly event.
Award, December 7th
Heikki Kiviaho and Jörgen Wall have been awarded with Eskilstuna Kommun's musical award of 10.000:- crowns each for their "significant
achievements in the region's musical life". The jury shows admiration
of the duo's work as musicians and producers for artists like Thåström,
Ingo&Floyd, Whale, Lisa Miskovsky, Kent, Titiyo, Sator and lots of
others. The festive awards ceremony was held on December 1st in Eskilstuna
city hall. Congratulations Jörgen and Heikki! Read the jury's full
motivation and see a list of the boys' merits here.
Concert news, November 30th
Sator will do a short gig tonight at Nalen
in Stockholm, at Kent Norberg's manager's 40th birthday party. The preliminary
setlist is: "Teenage Kicks" (The Undertones), "Mental Hell"
(Ramones) and Pigvalley Beach".
DVD, November
30th
The Sator song "What do you want?" is included in the
snowmobile DVD movie "Spunkbastards – No more weakness".
You can watch reindeers and snowmobiles to the sound of Sator. What
more can you ask for in life?
More info on www.spunkbastards.com

Chips K
Compilation
(not!) and special appearence, November 10th
Finally, the Nomads' tribute
album was released on November 3rd. Entitled "20 years too soon
— A tribute to the Nomads" and released by Big
Bongo Records/Wild Kingdom, the album features a lot of bands covering
their favourite Nomads' songs, including The Hellacopters, Bob Hund, The
Dictators among others. NOT Sator though, strangely enough. Sator was,
of course, supposed to participate. They recorded "Crystal Ball"
but according to Chips K, they couldn't find the time to mix it. It might
show up as a b-side in the future.

   Sator were however represented at a release party to celebrate this release,
and also the release of a Nomads/Hellacopters
split 7″ (both bands play the Nomads' song "Pack of Lies",
limited to 1000 copies) at Debaser
in Stockholm on November 3rd. An all-star band was put together consisting
of Robert Hellacopter as drummer and band leader, Chips K on guitar/vocals,
Heikki Kiviaho on bass and Markus Turpentine on guitar/vocals performing
Nomads songs with guest artists like Nick Royale (Hellacopters), Odd (the
Robots), Staffan Hellstrand, Mats (Maryslim) and long time Nomads roadie
Thomas "Osten" Johansson.
Both records are distributed by Sound
Pollution
The Nomads-Tribute
Release-Party Band
Interview, November 9th
There's a great and smoking fresh interview
with Chips and Kent at www.project15.org.
Some of Sator's future plans are revealed, and they also talk a
bit about what Sator has been up to since Musical Differences was
released in 1998, and about having new bass player Heikki Kiviaho
in the band. Highly interesting! (in Swedish)
Concert, October 15th
Bob Dylan
plays Gothenburg tonight. After the gig, there will be a tribute concert
to Bob, at Pusterviksbaren.
A brand new band, The Subterranean Homesick Experience (The S.H.E.)— including Kent Norberg — plays a big bunch of the best Bob Dylan
songs.

The Subterreanean Homesick Experience is:
Kent Norberg – vocals, harmonica & guitar
Dan Viktor – vocals, harmonica & guitar
Mattias Hellberg – vocals
Gustaf Karlöf – keyboard
Per "Flamman" Westling – guitar
Niko Röhlcke – guitar, pedal steel &
keyboard
Johan Håkansson – drums
Nikke Ström – Fenderbass
Show starts at 10pm. Tickets are 60 SEK.
Concert,
September 19th
Legendary country artist Gram Parson
died 30 years ago today. In honour to Gram, Kent Norberg has put together
The All Star Gram Band for a gig at Pusterviksbaren
in Gothenburg tonight. Expect to hear songs from Parson related bands
as The Flying Burrito Brothers and The Byrds. The gig is arranged by Woody
West.

The All Star Gram Band is:
Kent Norberg – vocals & guitar
Anja Ryne – vocals & tambourine
Kalle Stintzing – piano & vocals
Johan Andersson – guitar
Gunnar Frick – pedal steel (also in Jackson 10se)
Danne Johansson – drums
Nikke Ström – bass
Some special guests will appear during the evening, including:
Christian Kjellvander (Loosegoats)
Kristofer Åström (Fireside)
Olle & Axl (Whyte Seeds)
Elisabet Punzi (ex Whipped Cream)
Marcus & Jacob (The Travelling End)
Concerts, August 28th
On September 6 Chips and Kent will be playing
guitar and bass with White
Flag at the "Nipiaa rock
festival" in Aasiaat, Greenland! They will do a small informal
"warm-up" show at Pusterviksbaren
in Gothenburg on September 2.
Intro, August 15th
Some of you might have wondered what that groovy music was that
was played right before Sator hit the stage three days ago. It wasn't
the theme for Dragnet (which
Sator has used on many gigs) but it was the theme for the old sci-fi
TV-series "Space: 1999"
(Månbas Alpha in Sweden), from 1975-1977. It was composed
by Barry Gray. You
can download the song here
("Season 1 Opening Theme").
Concert,
August 13th
Sator played at Liseberg in Gothenburg, Sweden, yesterday. Thousands
of people had come to see their heroes on one of their rare concerts,
and they got to see a great show with a couple of new songs and
all. Sadly, some songs were played for the last time. Chips managed
to make an instant classic Sator joke as he introduced "I wanna
go home" with the words "Jag är synsk. Heikki där
borta är finsk." Kent's reply was "Jag är cynisk."

Photo by Linda Sellman
The setlist:
No Place to Land
No Reason
Time and Distance
No Time, Tomorrow
Jetslide
I wanna be your Driver (Brand new cover!)
We're Right, You're Wrong (For the very last time!)
Slug it out ("Chips don't
listen and Kent don't speak")
Black 'n' White
I Wanna Go Home
The Things you Don't (Brand new Sator song!)
I'd Rather Drink Than Talk
I'm Gone
This ain't the Way Home (New Sator song!)
Get out of My Way (from the forthcoming Barbie-Q-Killers 2)
Pigvalley Beach (with some lines from "Let's Dance")
Ring Ring
"I wanna be your Driver" is a cover of The
Swingin' Neckbreakers cover of the old Chuck Berry song. Sator has
never played it live before. "The Things you don't" is an old
Sator demo that the guys rediscovered when they were rehearsing this weekend.
A too good song to be left in the dusty vaults they thought so they rehearsed
it and decided to put it in the set, the day before the gig! A good move!
The absolutely great "This ain't the Way Home" will be on the
next Sator album. Yes!
You might have noticed that they didn't play "Mental Hell" or
"Love MF". These songs might have been performed for the last
time. "So Dressed Up" was however on the setlist. They just
forgot to play it!
A bunch of pictures will come soon.
Album
news, August 11th
I was in the Music-A-Matic studio today where Sator were rehearsing the
gig at Liseberg, but more importantly, to try out some new songs, written
for the next Sator album. Luckily, the work is going just great! At a
previous session, they got seven new songs down on tape, and this weekend
four more. Some of the new titles are "Basement Noise", "Missing
Man", "Celebration Town" and "If Time don't get Me".
I can report that the sound is classic Sator rock 'n' roll. The working
title for the new album is "Kickin' Ass for the Working Class".
Keep your eyes on the site for an update from Chips K himself, and maybe
even some sound samples! Photo
by Dennis Germundal
New born
Sator baby!, August 9th
This little fellow is Michael Olsson's new born son! He was born
on April 7th and his name is Valentin. As you can see he looks very
happy to be on the Sator website and I'm sure he's already a big
fan of his daddy's rock 'n' roll band. Well, there's a chance anyway,
isn't there?
Special appearance, July
7th
Chips K and Kent Norberg were the secret guest artists at Dom
galna hundarna's (featuring The
Nomads, Staffan Hellstrand,
Olle Ljungström and
Bob Hansson) gig at the
Peace and Love festival in Borlänge on July 5th. Chips was the
stand-in for Nomad Nix Vahlberg on this show so he played on most of the
songs. Kent played on "Don't pull my strings" (The Nomads),
"I wanna go home" (Sator) and "Black 'n' White" (The
Zeros). (Note: "Dom galna hundarna is Swedish" for "The
Mad Dogs", read a review of the gig here
or here).
Dom galna hundarna will play at Liseberg in Gothenburg on October 11th
(the day before Sator).
New bandmember!,
May 30th
Heikki Kiviaho is now a "real" Sator member! That's the first new
full-time member in the band since Sator started in 1987. Heikki
has been playing bass live with the band for almost two years now.
He will from now on also play on the records. We'll make an interview
with Heikki soon.

Chips K

Photo by Ola Solving
Concert news, May 13th
Yes, another Sator concert! On Tuesday 12th of August at 20.00 Sator hits
the big outdoor stage at Liseberg
in Gothenburg. You can except some brand new songs to be tested live for
the very first time! And some old songs will be played for the last time,
in order to make room for even more new songs in the future. Exciting!
Heikki Kiviaho will be the bassplayer again and he his now to be considered
as Sator's fifth member. He will play on the new album as well.
Compilation, April 5th
A new compilation featuring a Sator song has
been released. The album is called Absolute Svensk Rock Classics
and it is a double CD with 35 Swedish rocksongs, including the Sator
recording of the ol' Lili
& Sussi song Oh Mama. The CD was released on March 31st
by Eva Records. Full tracklist available here.
Concert news, March 23rd
Sator's gig at Nalen was great, sweaty and
almost sold out, and with some special treats – 2 brand new songs!

The setlist (not in correct order):
Time and Distance
No Reason
No Place to Land
No Time, Tomorrow
Jetslide
We're Right, You're Wrong
A Safetybelt for Suzie
(with some surprise lines from The Cramps' Human Fly)
Slug it out ("Chips don't listen and Kent don't speak")
Black 'n' White
So Dressed Up (New Sator song! Lyrics in the lyrics section)
I Wanna Go Home
I'd Rather Drink Than Talk
I'm Gone
This ain't the Way Home (New Sator song!)
Get out of My Way (from the forthcoming Barbie-Q-Killers 2)
Mental Hell (Ramones cover)
Pigvalley Beach (without the lines from "Let's Dance")
So Dressed Up has actually been released on the German compilation "I
was a punk before you was" on eMpTy
Records, in 2001. It was basically a demo recording and the band is
not totally happy with it so it might be properly recorded in the future.
This ain't the Way Home really stuck on my brain! The two songs might
show up on the next Sator album. Has anyone got any pictures from the
show? Send them here please! And it was cool to see some World Tour and
Headquake-tour t-shirts in the crowd.
Concert news, February 5th
Sator live on stage! Yes, finally, for the first time since last summer,
Sator will do a concert. The venue is the classic Nalen
in Stockholm, where both Sator and Kent Norberg as a solo artist has performed
previously. Opening act is The
Mainliners. Tickets are SEK 210. More info at Nalen's
website.
Concert news, February 5th
Kent Norberg did his second solo gig a week ago at KB
in Malmö. The first gig was at Nalen
on October 16th last year. I will tell you about the next gig BEFORE it
takes place. (knock on wood).
NEWS 2002
Compilation,
December 8th


This is very, very, embarrasingly old news but since I forgot to report
this when it happened, I'm doing it now. In case someone missed it, Rockparty released a double CD this spring to celebreate their 20th anniversary.
Sator are on it with a live version of "I Wanna go Home", recorded
at Metropol in Hultsfred on March 24th 1995. The booklet has a list of
all Sator shows in Hultsfred. Tracklist and other info here.
There, it's done!
TV appearence, December 8th
Don't miss Motorjournalen
on Swedish Kanal 5 this Thursday (12th). Kent Norberg can be seen testing
motor homes together with reporter Joppe Pihlgren (known from Docenterna).
Kent will perform one of his solo songs (unconfirmed). The show will be
aired at 20.00 and there's a rerun this Saturday (14th) at 18.00.

Press, December 7th
Swedish Cars-Music-Collectors magazine Depå
has a 5 page article about Sator in their new issue (#1 2003). Chips is
interviewed about Sator's past and future, reminiscing some funny old
stories from the career, and presents his favourite records. Great article
with some cool pictures! The magazine will be out all over Sweden next
week. Go get it!
Producing, December 7th
Some news about the Dozer album Chips produced this spring. This is from
their website:
"The 3rd DOZER full-length will be entitled
CALL IT CONSPIRACY and will be released in February on Cargo/Molten Universe
through-out Europe. DOZER are also working on finding a US-label interested
in releasing the album. The album will be mastered within a few weeks,
so check back for soundclips!"
You have a chance to see them on February 8th at Musikens Hus in Gothenburg
on the Fuzzfest.
Speaking of Chips producing, I'm sure no one has missed the latest The
Hellacopters album, "By the grace of God", that was released
in September. Two singles from the album have been released so far. Let's
all hope that they (and Chips, sort of) get the Rockbjörnen
for best Swedish album. They have big chances to get the 2003 Grammis
too, and I think it's about time Chips got nominated for "Producer
of the year", don't you?
Concert news, November 20th
I've updated the White
Flag tour dates. These are more correct. Rumour has it that Kent might
jam with them in Gothenburg, and that Nick Vahlberg from The Nomads might join them on stage in Stockholm.
Concert news, November 19th
Sator's friends in the legendary American
punk rock band White
Flag are embarking on a winter tour in Europe to celebrate their
20th anniversary. You can see the tour
dates to the right. I will update these if there are any changes,
or check their website
for the latest news. There you can also find a cool video-clip of
"Cherry Bomb", performed by Sator & White Flag (with
Campino from Die Toten Hosen) on the Hultsfredsfestivalen 1994.
Side project, October 23rd
Kent Norberg performed a solo concert in Stockholm on the 16th. It was
just him and Gunnar Frick (also in Jackson 10se) on accoustic guitars.
He played some of his own material in Swedish and a Steve Earle cover.
The last encore was a country version of "I Wanna go Home".
There is no album release planned at the moment but you never know. You
will be the first to know.
Writing, September 5th
Chips has contributed to a book called "Heaven
Needed A Lead Singer: Fans Remember Joey Ramone". This book is released
through a Finnish company called Tmi Ramoniac. Read more about this
book and how to order it here.
By ordering the book you enter a lottery in which one of the prices
is a signed copy of "The Songs Ramones the Same", autographed
by Kent Norberg, among other rock musicians featured on the album.
Concert intro, September 5th
We do get lots of questions about the intro. The intro used at the "Heden"
show in Gothenburg on August 9 was taken from the American TV show "Dragnet"
which was on the air from the early 50's until 1970. Sator has used this
as intro several times since as early as 1990.

These are the liner notes from the "Television's greatest hits" album
about "Dragnet":
"'Dragnet'
was the first program produced, directed, written by and starring the
same person, Jack Webb. It was also the first program to feature an average,
totally unglamorized, straight-facts cop. It became the highest-rated
police show in TV history. The opening, 'Ladies and gentlemen, the story
you're about to see is true. Only the names have been changed to protect
the innocent', was indeed true. Webb based each episode on an actual case
which he altered only enough for the sake of privacy and safety. Webb's
character, Friday was so real to the TV audience that the LAPD actually
had visitors dropping by hoping to meet their favorite cop.
The 'Dragnet' theme is actually made up of two different parts. The first
notes were used by composer Miklos Rozsa as incidental music in the 1947
film 'The Killers'. Walter Schuman composed the march that makes up the
rest of the theme. Performed by The Ray Anthony Orchestra in 1953, the
'Dragnet' theme went to #3 on the pop chart."
Watch "Dragnet" videos here.
More "Dragnet" information here.
Special appearence, September 5th
The Nomads have
a new 2-CD compilation out on White Jazz records called "Showdown
2 – The 90's". Around half of the tracks were produced by Chips.
It also features Chips, Kent and Hans on several tracks.
Interview, September 5th
Chips is interviewed on a Thåström
homepage about the Kalas tour 2002 (Only in Swedish).
Concert news, September 2nd
Around 26.500 people saw Sator open the Speedway
GP with a short playback set at at Ullevi
Stadium in Gothenburg. It was a really cool sight to the see the lads
on a small stage at the center of the soccer-field in the huge arena.
I hope my pictures come out OK. (I know I talk a lot about putting up
concert pictures, but none are up so far. Things are hectic at the moment.
Please be patient, they WILL be up in a while.) The setlist:
Pigvalley Beach
Time and Distance
Love MF
I Wanna go Home
Slug it out
No Time, Tomorrow
Ring Ring
Concert news, August 13th
Pray that you get a chance to see a Jackson 10se show in a not too distant
future, 'cause their concert two days ago was really great. Some good
ol' country tunes with lap-steel guitar and everything. Here's a review.
Hopefully, a bunch of pictures will be up here soon.
Concert news, August 10th
Sator played a great show in Gothenburg last night! Read a review here.
Some pictures will be up as soon as possible. If you have any pictures
from the show, or any Sator-pictures what so ever, we'd be happy if you
sent them to us so we can put them on the site (with your name on them). Yesterday's setlist:
No Place to Land
No Reason
Time and Distance
No Time, Tomorrow
Safetybelt for Suzy
Get out of My Way
Jetslide
Slug it out
Mental Hell
Black 'n' White
I Wanna go Home
I'd rather Drink than Talk
We're Right, You're Wrong
I'm Gone
Pigvalley Beach
Ring Ring
Concert news & interview, August 2nd
If you're going to Gothenburg to see Sator next weekend, be sure not to
miss the Jackson
10se concert on Hedens Klubbscen on August 11th, at 21:15. This is
a country band featuring Kent Norberg on vocals and guitar. Read a smoking
fresh and interesting interview
with Kent from GP, telling us about Sator's recent activities and
future plans.
Concert news, August 1st
Another show is confirmed. This time it's at the Speedway
GP at Nya Ullevi Stadium in Gothenburg on August 31st.
Concert news, July 21st
Sator will perform at Göteborgskalaset
in Gothenburg on the 9th of August. The show will be held on Hedens Stora
Scen at 22.00. Don't miss it!
Concert news, June 30th
Sator performed at Skellefteå-
festivalen on the 28th of June. This was Sator's first show
since they played the Chalmers University in Gothenburg in September
last year. You can watch a live video of "Mental Hell"
and "Slug it out" on the
festival's website!
Studio work, June 2nd
Chips has produced the forthcoming The
Hellacopters album. More information to come.
Studio work, April 20th
Chips spent a couple of weeks of April in the Music-A-Matic studio, producing
14 songs for the Swedish rockers Dozer's
third album. The album will be released in November.
Compilation, April 15th
One year after the death of Joey Ramone, White Jazz release the tribute album "The
Song Ramones the Same" on April 15th. Sator's contribution is "Mental
Hell" which has been part of the live-set for a while. Chips has been
highly involved in the release, producing the songs by Satirnine, Sahara Hotnights,
The Nomads, The Pain, Maryslim, The Hellacopters and The Turpentines.
Special appearence, February 12th
Chips once again played some guitar with Thåström, on his new album "Mannen som blev en gris". Kent can also
be heard on the album, singing some backing vocals. Chips will be
a part of Thåström's tour band on the Kalas
tour this summer together with Hekki Kiviaho (bass) and Jörgen
Wall (drums) from Whale and, new on this tour, Per Hägglund
(keyboards), one of the members of Imperiet.
NEWS 2001
Concert News, September 19th
Sator did a great show last Saturday. Daniel was back again. At the Peace
and Love-show, Heikki Kiviaho (Whale, Thåström) was stand-in
on bass. The setlist in Gothenburg, and as far as I know at Peace and
Love too, was (and not in this order):
No Place to Land
No Reason
Time and Distance
No Time, Tomorrow
Jetslide
We're Right, You're Wrong
A Safetybelt for Suzie
Slug it out
Black 'n' White
I Wanna Go Home
I'd Rather Drink Than Talk
I'm Gone
Love MF
Get out of My Way (from the forthcoming Barbie-Q-Killers 2)
Mental Hell (Ramones cover)
Pigvalley Beach (with a couple of lines from "Let's Dance")
Ring Ring
Concert News, September 10th
Sator will perform at the opening ceremony at Chalmers university's brand
new student's union-building in Gothenburg on September 15th. Opening
act is Jaguar.
Concert News, August 1st
Sator will perform on the Peace
and Love festival in Borlänge on August 3rd. The festival is
a manifestation against violence and racism and other bands include Backyard
Babies, Randy, The Kooks, Bad Cash Quartet, Loosegoats, Yvonne and tons
of others.
Producing, June 2nd
Chips K. has produced the new Sahara
Hotnights-album, entitled "Jennie Bomb". The recordings took place
in Music-A-Matic and Rommarö in March and April, and the album will
be released on BMG on June 4th.
Upcoming show, March 9th
Sator will play a bunch of songs at The Nomads' 20th anniversary party,
together with Robert Johnson & Punchdrunks, Flaming Sideburns and
of course, The Nomads themselves. This event will take place at Kolingsborg
in Stockhom on April 13th. More info can be found at The Nomads' homepage. The Nomads' new album, entitled "Up-Tight" and produced by Chips K., will be released on April 23rd.
Compilations, January 30th
Once again, Sator appears on a bunch of compilation albums. First off
it's on a Swedish 80's-punk compilation called "Volym #4 Den bästa
svenska musiken 80-tal". The songs are "Gamma Gamma Hey!" and "We're Right,
You're Wrong" and the booklet features comments on these songs by Chips
K. Release this week on MNW Records.
There is also a Spanish compilation out called "Muga 16 Años" including
"Time and Distance". You can order it from Safety Pins Records.
Compilation, January 20th (unconfirmed)
Sator is not on the double-CD version of the The Flamin' Groovies tribute.
The tape they sent to Safety Pins Records was damaged. They will however
appear on the vinyl version that is yet to be released. Safety Pins Records
are currently negotiating with a label to make the vinyl album. Sator
is performing the track "You Tore Me Down".
Producing, January 17th
Kent Norberg is in the Music-A-Matic studio together with 59 Times
the Pain, producing their new album "Calling the Public", release
due sometime in March.
Chips is also busy producing. He's working on the new Nomads album
that will be released to coincide with the band's 20th anniversary (April 13th).
NEWS 2000
New Releases, November 26th
There's not much happening on the Sator front at
the moment but I'm doing a small update so you won't think that I've died.
Sator has appeared on two quite recently released compilation albums.
First, it was with the old hit "I Wanna Go Home" on "Baren -18 partyhits
utvalda av deltagarna i Baren" and later, the previously ureleased cover
of The Flamin' Groovies' "You Tore Me Down" on "Groovin' 'round the World
– A Tribute to the Flamin' Groovies" released on Safety Pins Records.
I've also heard unconfirmed rumours about an unreleased song being on
a yet-to-be released compilation album called "I was a Punk before you
was (Old School for New Students)", to be out on Empty Records. If anyone
knows anything more about this please let me know.
Sator might also have dropped their contract with Independent Records.
They no longer appear at their website. More news about this will definately
come as soon as I get them.
So, until the release of B-Q-K vol. 2, (release date still unknown to
me), don't miss out on the 10″ vinyl version of the "Droppin' Out!" EP
out on Safety Pins Records. It has 3 bonus tracks not found on the CD
version (they all appear elsewere too though) and can actually be found
here and there in Sweden. Contact me if you have trouble finding it.
Producing, October 5th
Chips Kiesbye has been in Music-A-Matic studio with Plan Nine producing
their debut album, "Generation Action". He also found the time to play
some guitar on it. The release date has not been decided. You can read
an interview with Chips and the band as well as a recording diary at Plan Nine's excellent homepage.
Chips has also produced the Hellacopters'
new album "High Visibility" due to be released on October 16th.
Speed of Sound Enterprise, May 26th
About two hours ago, Speed of Sound played Liseberg, Gothenburg. Some
interesting, unreleased songs were performed, including "Swinging London"
that will be on their second album, "Almost All the Time in the World"
from their forthcoming, second single, "That Would Be Something", and one more song that I didn't catch the name of but it sounded like "We Got Burned" or something. The setlist was (and
not in this order):
Speed of Sound Enterprise
Young Girl
Just Out of Reach (from the "Young Girl" CD-Maxi)
That Would Be Something
Love and Need
No One Cares
North in the Country
Do I Do I
The One That Got Away
Swinging London
Anarchy
Almost All the Time in the World
"We Got Burned" (?)
Make sure to catch them at a festival this summer!
New album, April 22nd
Sator played two brand new songs at their gig in Gothenburg yesterday.
The tunes were "Get out of My Way" and "You Don't Seem Real". These songs
will both be on Sator's forthcoming sequel to "Barbie-Q-Killers vol. 1"
that might be in stores right after the summer.
Speed of Sound Enterprise, April 16th
Kent and Daniel's sideproject "Speed of Sound Enterprise" will release
their debut single, "Young Girl" on the 19th of April. The selftitled
debut album will be released on the 27th of the same month. The album,
which has been mixed in New York, was recorded last summer but has been
delayed because the record company BMG has been concentrating on other
acts until now. Other members are Joakim Levin (Daniel's brother and
ex-member of famous Swedish punkband "De Lyckliga Kompisarna") on drums and
Jonas Redig on bass. Visit their official
homepage or their record
company for more information and a video! There's also an interview
and the video to "Young Girl" on Aftonbladet's site.
Concert News, March 21st
Sator is doing a gig at Sticky Fingers in Gothenburg on May 21st and one
at Metropol in Hultsfred on May 22nd. More information about the Hultsfred
gig is available at Rockparty's homepage.
Info about the Gothenburg gig is available here.
New album, February 30th
The follow up to "Barbie-Q-Killers vol. 1" will be released soon. Last
I heard is that it will contain 14 songs. Not only American bands but
also some British ones will be covered. One of the know titles is "Peeking
Hooligan" by the Buzzcocks. More news and release date as soon as I get
it.
Producing, February 25th
Chips Kiesbye has produced a bunch of songs by Matching Numbers,
including members from Nomads, Demons, Robots and Atomic Swing.
Compilation CD, February 15th
Sator will contribute with one song on a record against nazism and rasism.
The working title is "Vi håller inte käften!" and other artists
include Thåström, Blues & V.I.P:z, Sahara Hotnights, Hammer
Hill Click & Dogge, Charta 77, Looptroop, Stefan Sundström &
Johan Johansson, Troublemakers, Shadlims, Ubba and Iguana party. The album
will be out before the summer and all the profit will go to the John Hron-foundation.
A concert in Gothenburg is also planned.
NEWS 1999
Split Single, November 11th 1999
Sator has made a spilt single with the French band Garlic Frog Diet. It will contain the previously unreleased Sator songs "You Ain't
Nothing" and "A Song to You". It will be limited to 500-600 copies printed
on colored vinyl. The single will be released by Sideline Records.
NEWS 1996
Sator is doing two gigs in the beginning of November.
1/11 Köping & 2/11 Göteborg. They want to "kick start
the recording sessions for the new record", all according to the
band.

Chips and Kent have been busy producing other bands in -96. Kent just
finished a cd with Swedish band Smash Hit Wonders and
Chips has been working with Bazooka, The
Mutts and Mouth to mention a few.

Hasse has also been busy in the studio working with up coming punk rock band The
Bones and helping Randy with the mixing
of their new self produced album "The rest is silence".

Rumors say that Sator is going to use several different producers for the new
record to get the most out of the new songs.